CheckLine Permanent LifeLine System
CheckLine is technologically advanced to offer the user total security and freedom of movement.
This next generation system boasts many novel features including the unique patented ACS trolley (for inclined roofs and structures). Removable TopFix posts allow simple installation and rapid repair in the event of a fall.
The In-line loadcell measures tension during and after installation ensuring the system is at the designed pre tension. This is critical when installing on fragile structures and over long spans.
In-line dampers are used for steel, brick and concrete fixings. This reduces peak end load by approx 40% protecting extremity anchors and structures in the event of a fall.
Connection to the system is simple via either the entry exit gate for standard and ACS trolley, or at any point with the removable trolley.
By designing a totally modular 'Plug & Play' system Checkmate have given installers freedom to design and LifeLines from simple straight runs to complex shapes without any compromise.
Lightweight battery powered crimpers ensure accurate terminations, speed up installations and reduces tool carrying weight.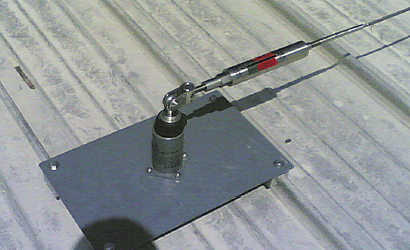 Standing seam roof

Flat concrete bitumen roof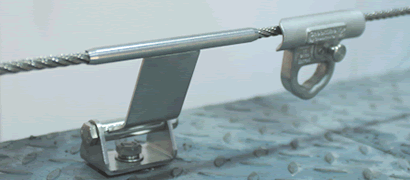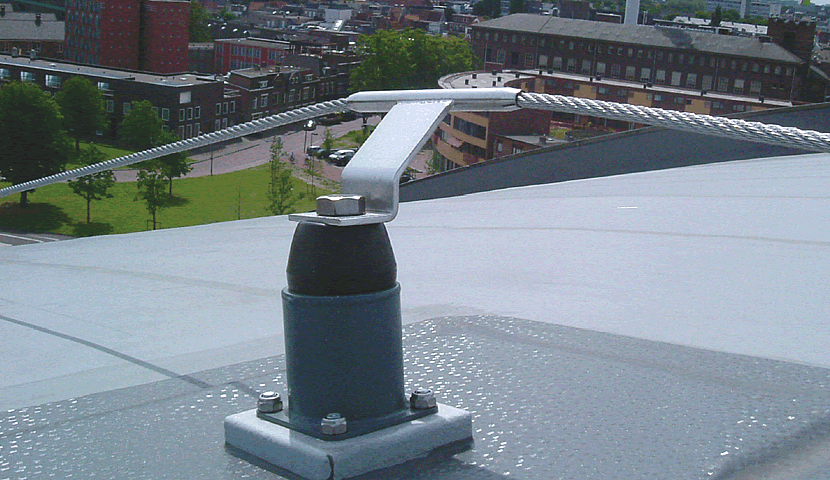 Curved PVC coated roof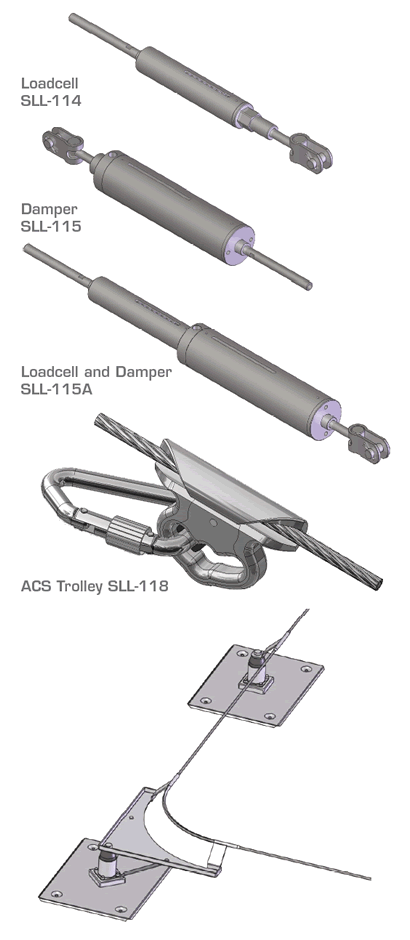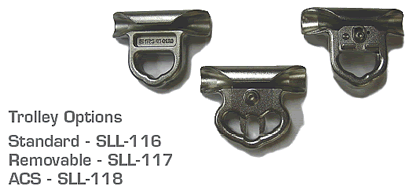 Principle Features
Stainless steel construction, with zinc plated and powder coated base plates. Stainless steel options
3 Trolley options including Patented ACS (Active Cam System) ACS trolley for inclined roofs
Spans range from 6m to 12m depending on the structure
Range of fixing posts to suit brick, concrete, steel or composite roofing, standing seam, PVC and Bitumen flat roofs
TopFix posts are energy absorbing via special rubber dampers.
In-line shock absorber and loadcell
Installed using 12Volt lightweight portable crimper
Internal and External corners with an open slot for ease of cable pull through. Supported by tubular stays to eliminate corner deflection
Fast fix Mega Stitch screws to reduce install time for composite roofs
Energy absorbing post removable from base plate after a fall, leaving roof panel intact
8mm 7x7 construction s/s wire rope
Unlimited bracket configurations to cover all installations
Complies with
EN 795 Class A & C
AS / NZS 1891.2: 2001
TwinLine
A twin wire horizontal lifeline that is permanently installed and allows uninhibited movement around any structure. There is no need to disconnect at intermediate fixings as the trolley will glide over them using a twin taper per line guidance system that ensures a smooth action.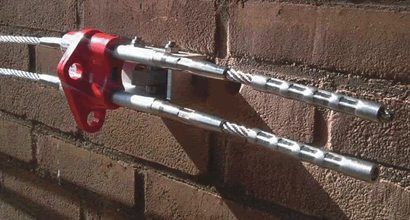 End Bracket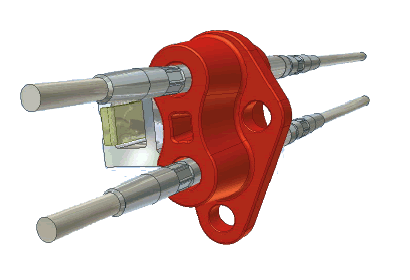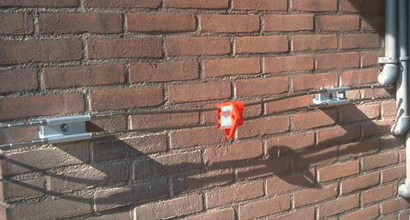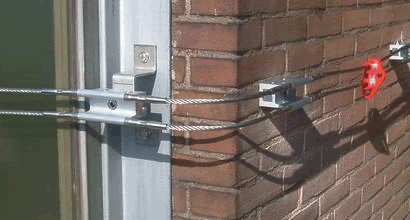 Principle Features


Stainless trolley
Alloy intermediates anodised
Trolley powder coated
Stainless steel tapers and spacers
Stainless steel end plates
Single M12 bolt to secure intermediates
Twin 8mm stainless steel wire rope
Wire pre tensioned between fixings reducing sag and minimising ground clearance
Shock absorbing guides at each intermediate that are designed to give if a fall generates high forces
End fixings have a forgiving swage
Up to 9m spans
Wire to rail for zero sag
EN 795 Class C